Blue tempered steel strapping
emerges as a pivotal element in crafting cost-effective packaging solutions, showcasing distinctive features that contribute to overall efficiency. 
Unmatched Tensile Strength:Celebrated for its extraordinary tensile strength, blue tempered steel strapping empowers robust bundling of heavy loads, minimizing the necessity for excessive strapping material and fostering cost savings.
Optimal Material Utilization:Harnessing its inherent strength and durability, blue tempered steel strapping demands less material to secure loads compared to alternative strapping materials. This streamlined usage translates directly into tangible cost savings on raw materials.
Extended Longevity and Reusability:With an extended lifespan, blue tempered steel strapping outlasts competing materials. Its durable nature facilitates multiple uses across various packaging cycles, diminishing the frequency of strapping replacements and the associated expenses.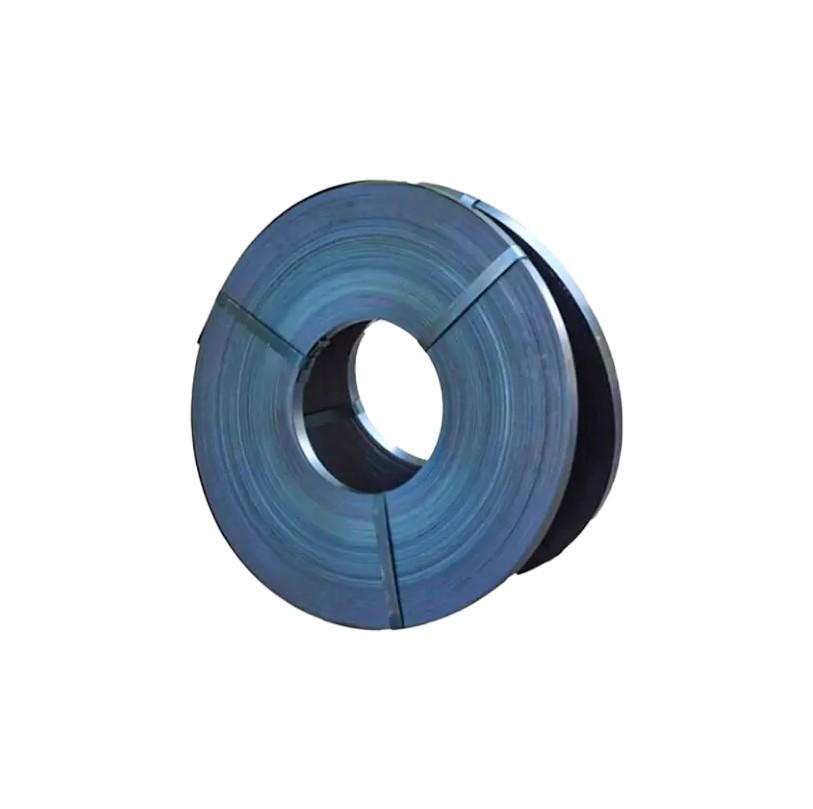 Resilience in the Face of Environmental Challenges:The heat-treated composition of blue tempered steel enhances its resilience against environmental adversities, particularly corrosion. This robust resilience ensures the strapping maintains its structural integrity, curbing the need for premature replacements and reducing costs.
Dependable Load Containment:The inherent high tensile strength and rigidity of blue tempered steel strapping contribute to secure load containment, minimizing the risk of product damage during transit. This reduction in damage-related costs is a significant factor in the overall cost-effectiveness equation.
Harmony with High Tensioning Requirements:Excelling in applications requiring high tensioning, blue tempered steel strapping facilitates efficient and precise bundling of loads. This compatibility ensures stability during transportation without the need for additional strapping layers.
Diminished Breakage and Stretching Concerns:The robust structural composition of blue tempered steel strapping mitigates the likelihood of breakage and stretching, setting it apart from alternative materials. This reliability significantly reduces the occurrence of strapping failures, contributing to cost savings.
Versatility Across Diverse Packaging Applications:Blue tempered steel strapping's versatility spans a spectrum of packaging applications, accommodating heavy-duty industrial loads to construction materials. This adaptability empowers businesses to streamline their strapping inventory, promoting operational cost efficiency.
Integration with Automated Strapping Machines:Specifically designed for compatibility with automated strapping machines, many blue tempered steel strapping coils enhance operational efficiency. This not only reduces labor costs but also ensures consistent and precise strapping application.
Economies of Scale Through Bulk Purchases:Embracing bulk purchasing strategies often leads to volume discounts for blue tempered steel strapping. Businesses dealing with high packaging volumes can capitalize on these economies of scale, fostering cost savings per unit.
Resilience Against UV Rays and Weather Elements:Blue tempered steel strapping maintains performance integrity even in outdoor or exposed storage conditions, showcasing resilience against UV rays and weather elements. This sustained strength contributes significantly to minimizing replacement costs.
Adherence to Rigorous Industry Standards:Blue tempered steel strapping typically aligns with and adheres to industry standards for load securement. Ensuring compliance acts as a safeguard against potential fines or penalties, further solidifying long-term cost savings.
In essence, the cost-effectiveness of blue tempered steel strapping is intricately woven into its strength, durability, reusability, and adaptability across diverse packaging needs. Businesses embracing this strapping solution are poised to unlock benefits such as reduced material consumption, heightened load security, and optimized operational costs over time.