When it comes to securing and bundling heavy loads for transportation or storage, finding a reliable strapping material is crucial. Polyester composite strapping, made from a combination of polyester fibers and resin, has emerged as a popular choice in various industries.
1. Superior Strength:
Polyester composite strapping boasts exceptional tensile strength that enables it to secure heavy loads effectively. Its high breaking strength provides the required stability, even under extreme conditions, preventing shifting or damage during transit. This strength makes it an ideal choice for securing pallets, crates, and containers.
2. Safety Assurance:
One of the primary concerns when securing loads is ensuring the safety of both the workers and the products being transported. Polyester composite strapping offers excellent shock absorption, preventing sudden jolts or movement during transportation. It reduces the risk of accidents, such as load shifting or falling, safeguarding workers and minimizing damage to goods.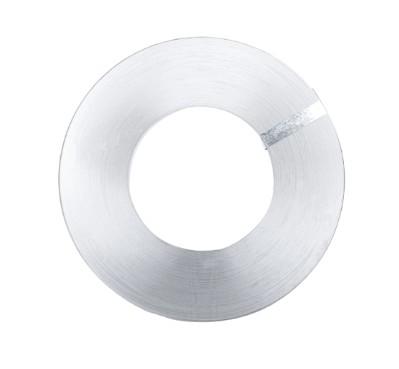 3. Weather and Chemical Resistance:
Polyester composite strapping is designed to withstand various environmental conditions. It is resistant to moisture, UV radiation, and extreme temperatures. This durability ensures that the strapping remains intact and does not deteriorate when exposed to harsh outdoor elements. Additionally, polyester composite strapping is chemically resistant, making it suitable for use in industries where exposure to chemicals is common.
4. Lightweight and Flexible:
Compared to conventional metal strapping, polyester composite strapping is lightweight and more flexible. Its flexibility allows for easy maneuverability, ensuring a tight and secure grip around the loads. Additionally, the lightweight nature of the strapping reduces the overall weight of shipments, contributing to cost savings in freight charges.
5. Cost-Effective:
Polyester composite strapping offers significant cost-saving benefits. Not only is it an affordable alternative to steel strapping, but its flexibility also translates into reduced labor costs. Polyester composite strapping can be easily tensioned and secured without requiring heavy-duty tools or complicated procedures. Furthermore, its resistance to damage and elongation means fewer replacements are needed, further cutting down on expenses.
6. Environmentally Friendly:
In an era where sustainability is a paramount concern, polyester composite strapping is an eco-friendly choice. Unlike steel strapping, polyester composite strapping is recyclable and can be easily disposed of without posing harm to the environment. This aspect aligns well with the growing focus on sustainable practices across industries.
Polyester composite strapping offers a host of benefits that make it a preferred choice for securing heavy loads in various industries. Its superior strength, safety features, weather and chemical resistance, lightweight nature, cost-effectiveness, and environmental friendliness position it as an efficient and reliable strapping material. Consider switching to polyester composite strapping to enhance load security, minimize risks, and streamline your operations.